LIVING FINISHES IN COPPER AND BRONZE
Cyprium Collection features copper and bronze clad windows and doors that are unique in design and construction. The Cyprium Collection is artisanal in detail, down to the soldered exterior joints and rich, tactile depth of texture in the thick metal cladding and deep profiles.
These hand-wrought living surfaces develop distinctive patinas that adopt and define the individual aesthetic character of the homes to which they belong. The Cyprium Collection is available in Casement, Picture/Direct Set, and Awning Windows,LiftSlide Doors, Specialty Windows and Terrace Doors.
SOLDERED JOINTS
Lead-free soldered joints add a hand-forged, authentic appearance that is both attractive and functional. Soldered joints create a cohesive, watertight body for frame and sash members resulting in uniform reaction to temperature fluctuation.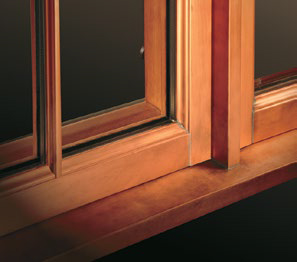 RECESSED MULLION
Recessed from the face of the sill and frame, this classical mullion detail adds visual harmony. Cyprium's deep sills are well suited to masonry wall construction.
CAPPED SILL END
Hand-fitted sill caps are soldered in place for structural integrity and a finished appearance.
DISTINCT PICTURE/DIRECT SET PROFILE
Picture/Direct Set (fixed, non-sashed units) offer an even deeper offset from the face of sill, head and frame members to the vertical plane of the glass.
LOEWEN'S FULL CLAD DOOR PANELS
combine rugged performance with architectural elegance.
A fitting partner to legendary Loewen Douglas Fir (standard) or Mahogany (optional) construction, Cyprium doors offer robust security and timeless style with individuality derived from nature's "perfect imperfection" of a living patina.
Equipped with standard multi-point hardware — with stainless steel exposed components, Cyprium door and entryway systems — are secure and reliable.