MAXIMUM PROTECTION FOR COASTAL ENVIRONMENTS
Loewen StormForce Products take the performance of our standard windows and doors to the extreme, offering you fenestration structurally enhanced to meet – and exceed – International Residential Code, Florida Building Code and other Coastal requirements, including the stringent Dade Country certification. Each test is conducted by an independent agency, based on extreme conditions and varying product sizes. Code compliance is a fundamental aspect of Loewen design and engineering.
StormForce is available in Casement, Awning, Picture/Direct Set, Specialty Windows, Double/Single Hung, Patio Doors, Terrace Doors and LiftSlide Doors.
For the best performance, we use Coastal Douglas Fir (Pseudotsuga Menziesii) or Mahogany in our frames and sashes. To enhance our woods' high natural resistance to moisture absorption, decay and insect infestation, every Loewen wood component is treated with a water repellant/wood preservative sealant before assembly.
These tightly grained woods give our windows a rich, warm texture and they're also naturally tough and resilient, yet remarkably workable, meaning they are ideal for precision milling and capable of holding the smallest, most intricate detailing.
HIGHLIGHTS
Maximum coastal protection – purposely designed to withstand all of nature's harshest elements – hurricanes, tropical storms, high winds, driving rain, sweltering heat and freezing cold
Unseen structural upgrades- no unsightly brackets and/ or locks commonly seen on coastal products
Versatile and enhanced styling – Douglas fir wood interior standard with the choice of extruded aluminum cladding
Optimal thermal performance – Heat-Smart (Low E) insulated glazing, laminated, and reflective glazing options which provide comfort, shading, and peace of mind
IMPACT GLAZING
Windborne wreckage can impact homes during windstorms and hurricanes, with gusting, pervasive winds to follow. To protect the integrity and interior of homes, windows and doors must resist penetration and remain in place and intact. Impact designed laminated-glass windows and doors pass windborne debris impact tests, and even when broken, the glass fragments remain integral, adhering to the plastic interlayer, to preserve the building envelope.
With impact products rated up to DP 85, Loewen's superior design is able to withstand 9,000 cycles of positive and negative wind loading, 105 psf structural loading and the impact of a D-Missile*.
D-Missile certified products are tested to withstand impact from a 9 pound 2 x 4 stud, 8 feet in length, at an impact speed of 50 feet/second. Products are then tested to withstand 9,000 positive and negative wind loading cycles without failure of the building envelope.
All Loewen StormForce products use industry leading laminated glass produced by bonding a combination of plastic vinyl layers and polyester film between two panes of glass into a single sheet. Laminated glass has the look of ordinary glass but offers a fortification against accidental impact, forced entry, sun damage and noise that far surpasses that of standard glass.
Glazing options on Impact products include PVB and SGP in clear layers.
Also available is a LoE3 coating which helps reduce solar heat gain while being virtually invisible.
StormForce delivers impact resistance, and superior thermal performance in an insulated glazing configuration with laminated glass products. StormForce frames and IG units are weather proof against all water and air infiltration and the energy efficient design meets specific regional building codes for U-Values in coastal areas from New York to Texas.
FLORIDA BUILDING CODE
The Florida Building Code is the strictest code in the United States for resistance to wind-borne debris and wind-loading for fenestration products. Many Loewen certified products meet high velocity wind zone 4 standards.
STORMFORCE DOUBLE HUNG WINDOWS
Loewen Double Hung window has been designed to complement the depth and character of the traditional North American home. We've combined superior strength and durability with maximum coastal protection and innovative efficiency options to deliver a window that not only matches the look of your residence, but also delivers the progressive performance it deserves
Innovative balance system allows windows to open and close smoothly
Single-handed lock/tilt mechanism allows for inward tilting of the sash for easy cleaning
Integrated structural sill block and metal nailing flange allows for enhanced moisture management and maximum protection against water infiltration
Thermally broken aluminum sill and glazing options for maximum energy efficiency
Heavy aluminum meet rail improves performance when struck by a D-Missile
Interlock system and integral sill block details enhance the structural integrity of the window
Flexible bulb weather seal for optimal performance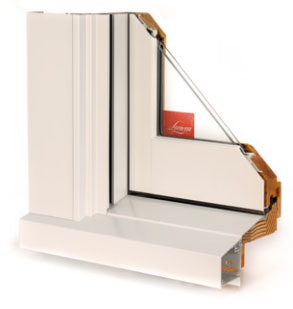 STORMFORCE TERRACE AND FRENCH TERRACE DOORS
No other hinged door performs in coastal environments like a Loewen Terrace door. Traditional and French. Traditional Terrace doors hinge on the jamb so that one panel is fixed and the other operates. By contrast, French Terrace doors are hinged on the outside to allow both doors to operate from the middle. Outswing versions of both styles are available as additional protection options.
Handle-activated stainless steel head and sill shoot bolts are standard with StormForce series. Additional lock points increase structural air/water performance and provide added security
Insulated sealed unit provides energy efficiency as well as impact resistance
Stainless steel support plates on top and bottom panels enhance structural integrity
Thick interlayer designed to resist Zone 3 D-Missile impact
Utilizes five-point stainless steel locking system, stainless steel strike plates and a sturdy astragal for superior impact performance
Tall sill enhances protection against water infiltration
STORMFORCE SLIDING PATIO DOORS
Functioning like large moving windows, Loewen Sliding Patio doors can open up the walls for larger living space. StormForce doors are weatherproof, safe, secure and easy to operate. Loewen uses laminated sash construction, thick, tempered safety glass and smooth tandem rollers. For added protection, Loewen builds an anti-lift device into every patio door. An optional foot lock is also available, as is manual three-point hardware.
Anti-lift device
Zero clearance required
Standard integral sliding screens available
Standard multipoint locking hardware & foot lock mechanism
2 1/4" thick sliding panels
Silicone-treated, woven pile and foam-filled Q-lon weatherstripping system
STORMFORCE LIFTSLIDE DOORS
The Loewen LiftSlide allows expansive glass panels to roll smoothly and easily during operation. With the touch of a hand, the LiftSlide mechanism rotates down to seal against water infiltration. LiftSlide Doors can be located in areas of extreme exposure where homeowners want a coastline, mountain or lakefront vistas with minimal sightline interference.
With the high structural integrity and performance of LiftSlide doors, only raised threshold is available in StormForce.
For superior water protection an additional sill riser is available. LiftSlide rails and stiles are comprised of two various construct ions; all aluminum, and an aluminum/wood hybrid.
Opening panels are equipped with 3G corrosion resistant stainless steel wheel assemblies with flat deformation resistant wheels and precision bearings. Aircraft grade aluminum extrusions with VG Douglas Fir Interior (Mahogany option available).
Aluminium Corrosion resistant track with integral drains
Robust hardware handles a maximum weight of 850 lbs per panel maximum panel size with laminate glass is 60" (1524 mm) wide or 139 9/16" (3545 mm) tall and 50 square feet of glass