We have worked with industry professionals and designers to define our palette of exterior metal clad colors and finishes. These paints meet the specifications of the American Architectural Manufacturers Association (AAMA) 2605. The qualities of this paint provide robust weathering, fade, and chalk resistance and a beautiful finish that lasts for decades when cared for properly.
AAMA 2605 / 70% Kynar Finishes
Aluminum Cladding Colors
Storm Grey
Picture/Direct Set
Aluminum Cladding Colors
Steel Matte Black
Picture/Direct Set
Aluminum Cladding Colors
Tuscany Brown
Timber Curtain Wall
Aluminum Cladding Colors
Alpine White
Rotogear Casement
When personal style or design dictates a unique color solution, just tell us what your wish is. Our standard range of aluminum clad colors is enhanced with the choice of true custom color specification. The integral cross matching system and color approval process ensures that you get the exact color you want every time. Here are some examples of the custom colors we've produced.
AAMA 2605 / 70% Kynar Finishes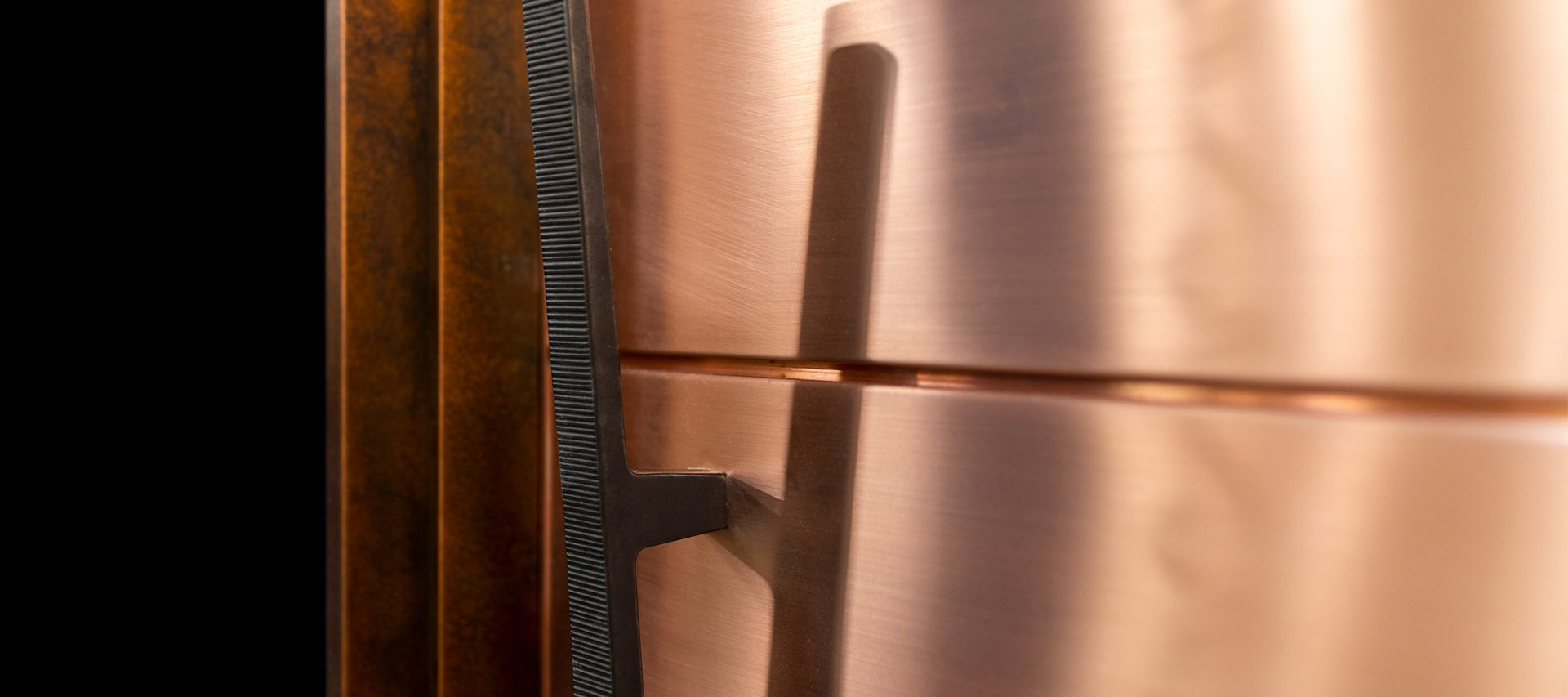 An important part of our cladding offering is found in our Cyprium Collection (copper and bronze cladding). Our Cyprium Collection products are different in more ways than just the cladding material. Be sure to check out the Cyprium page for more information.
A durable alternative to painted coatings, our Anodized Finishes offer a rich matte look that reduces sunlight glare and allows the aluminum to maintain its metallic appearance. In addition to the aesthetically desirable etching, our Anodized Finishing also increases resistance to abrasion.
* Anodized finishes are not recommended for coastal environments
Jet Black and Oxford White are premium waterborne finishes that are specifically designed to provide exceptional performance. They are formulated with a proprietary blend of self-crosslinking acrylic and urethane resins to yield a finish that is tough, longlasting, and resistant to household chemicals.
These low-VOC/HAP-free finishes have great flow and leveling characteristics, as well as superior coverage with a fantastic feel, while meeting ANSI/KCMA and WDMA TM-14 standards.
Jet Black and Oxford White prefinishes are available as standard configurations.
We offer beautiful, hand-applied wood stains through our Custom Shop. We regularly create custom stains for our customers, matching the key finishes that are present in their homes. In addition to staining, optional wire-brushed distressing can be applied for even more texture. Here are some examples of stains we've done.
Wood Stains
Wirebrushed Coastal Grey
Custom Shop Double Hung
Wood Stains
Wirebrushed Tucson
Custom Shop French Door
Wood Stains
Wirebrushed Western
Accoya Plank Terrace Door